Tips to Anger Management in Relationships
Nearly all relationships undergo anger and resentment at times; may it be a relationship with parents, friends or even romantic ones. Getting angry at your partner is very common and it's undeniable.
However, one tends to forget at times that they're already being too hard on their partners. They become toxic because they give in to their emotions, especially those who are short-tempered. As a result, your anger will slowly break your relationship into pieces without you knowing it.
Thus, when it comes to managing your anger, it is very important that you know how to handle it well. The truth is it's easier said than done. Yet, would you dare to let your relationship fall just because of one's anger? Surely, you won't let that happen.
To help you with that, here are some tips that you can follow:
1. Breathe deeply and stay calm.


If you are in a big argument with your partner, allow him/her to talk. You ought to listen, take a deep breath, and stay calm as much as possible. It may be so difficult to do especially if your partner is at fault, but always remember that it's important to make your body and mind calm. Tell yourself to keep distant from the feeling of anger that is forming inside of you.

2. Think first before you speak.


When one is triggered, it's very easy to speak out what he or she is feeling. However, if you don't want to spoil your relationship, be still and do not burst out right away. Always think first before you open your mouth to avoid hurting your partner. You know, "words cut deeper than knives"; thus, you better think maturely.

3. Take a break and ask for space.


If you feel like your anger is troubling you already, let your partner know how you feel and ask for space. Tell your partner that you need more time to think by yourself. You may go for a walk or go out to an open air to think thoroughly. Rest assured, this will certainly help you to tone down your anger.

4. Try to reconnect with your partner.


Do something and reconnect to your partner when you feel like your anger has gone away. Make some effort to regain what you have lost while both of you were in an argument. Ask for an apology and be sincere when you do so. Explain to your partner why you acted that way. Through that, you will save your relationship.

5. Keep in mind that you love your partner more than your anger.


It is better to lose an argument than to lose your partner for a lifetime; that would be really heartbreaking. Remember that arguments are always there and those only serve as challenges in your relationship. An argument should not shatter your love to your partner. You can always settle this.
Following these relationship advice is not that hard. If you care for you partner and for your relationship, then trying these tips won't hurt. If you do so, you will surely have a better relationship with your partner and everyone else around you. Check out our page for more relationship blogs.
If you think these tips are of great help, contact us and allow us to know. Yet, if you are in the state of wanting to meet foreign singles, join our upcoming tours and find your match among them.
The following content is taken from internationaldatingclub.com and is revised for gender neutrality purposes.
A Foreign Affair Review | Top International Dating Sites
Dating and finding love can be quite challenging. It can be hard to find someone who is compatible with someone's interests, values, and lifestyle; however, it is still certainly possible. A great solution to that is Loveme.com. It is the home site of A Foreign Affair, one of the most trusted and longest running introduction and tour companies in the dating industry. Those who are looking for love often find it in its exquisite pool of matches from around the world.
Receiving an "A" rating from the Better Business Bureau, the agency's performance and security are guaranteed to be top of the line. Not everyone, given the nature of its industry, can get this high of a score. This alone clears up any doubts on the authenticity of A Foreign Affair. With its credentials, one can easily see that it is reliable, outstanding, secured, and nowhere near a waste of money.
For someone looking for love, here is a quick round-up of what can be expected from AFA.
What Makes A Foreign Affair Unique from Other Sites?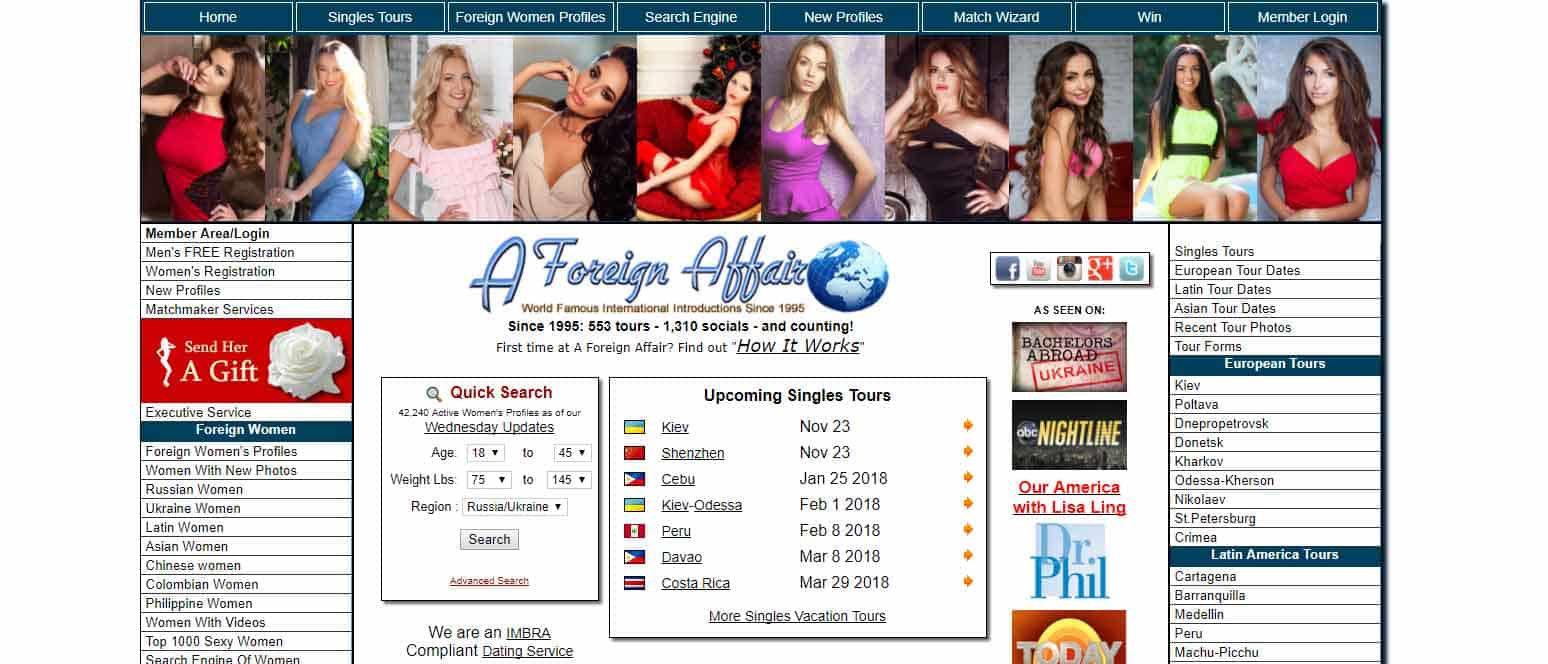 Established since 1995, A Foreign Affair continues to provide quality matchmaking services for its users.
Established Agency with Worldwide Connection
This marriage agency has started out in 1995 and has given satisfactory services to subscribers since then. It has been featured in multiple media outlets such as ABC Nightline, The Today Show, National Geographic, and more. The committed service of the company does not stop in its head office in Phoenix, Arizona, but continues on through their foreign offices based around the world.
It has fully-operating branches in St. Petersburg, Peru, Kiev, Shenzhen, Costa Rica, the Philippines, and more. Members are assisted by the staff and representatives of the company as they go on the tours offered in such places mentioned above. A sufficient number of translators are provided by the company as well, and that case eases the concern of communication between the members and the ladies during the social.
A Foreign Affair also assists its members with accommodation and transportation to and from the country of their destination. All they have to do is fill out the appropriate forms on the website, prepare the necessities during their tour, and the company takes care of everything else. When things work out and their members choose to bring the woman that they have fallen in love with to their home country and are in need of the K1 fiancée visa, AFA also provides assistance for the entire process.
Convenient Membership Registration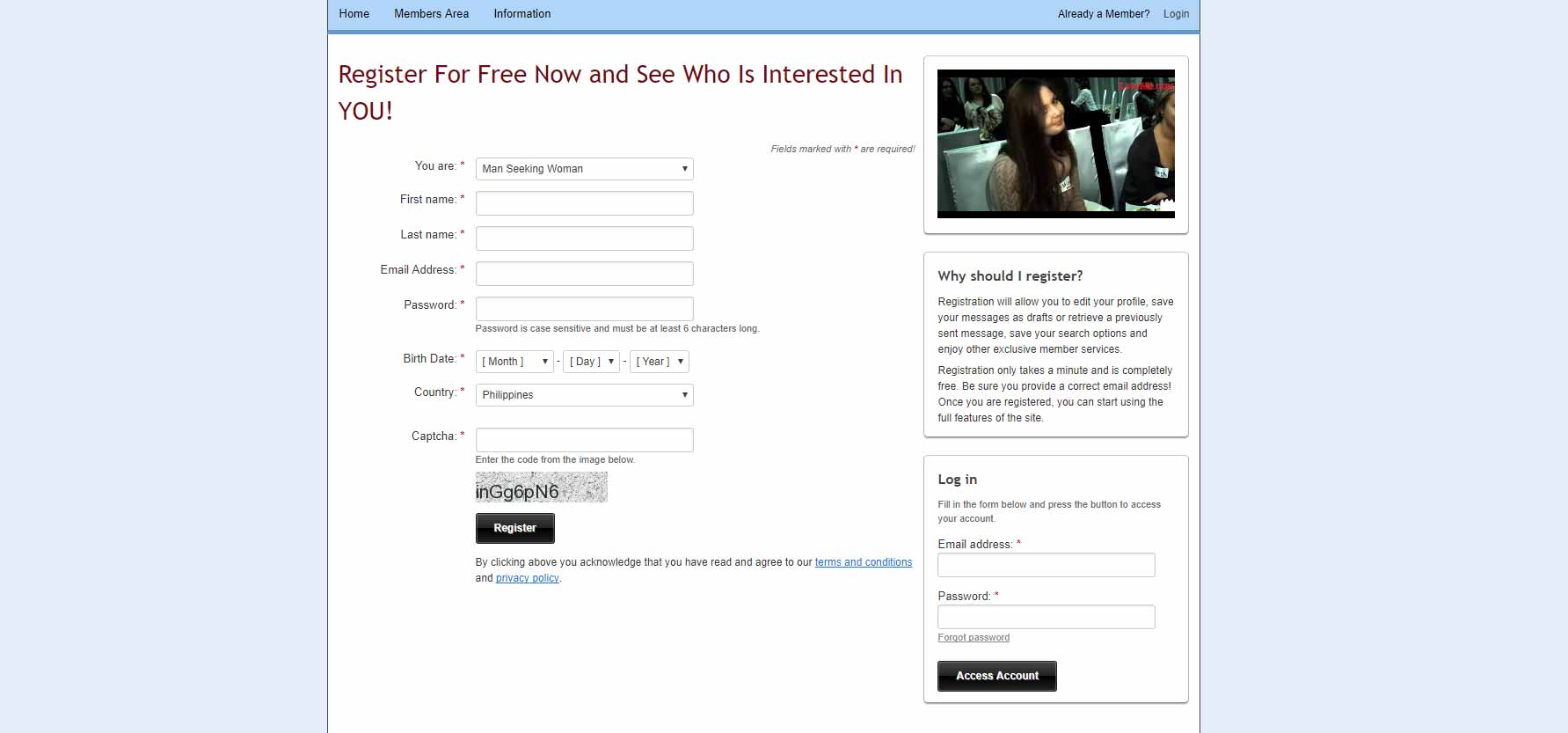 With a simple registration process, A Foreign Affair is easily accessible to anybody seeking love online and in real life.
The whole registration process is straightforward. Like other dating sites, anyone can sign up with Loveme.com for free. A certain form is readily available on the site and it only requires basic personal information, name, contact details, and the like. It's a quick process and it allows you to have immediate access to the website's search feature.
Aside from that, one can also upgrade their membership to platinum for $95 activation fee and you can enjoy a great money-saving deal. Clients get to exchange letters to hundreds of addresses, participate in three-way phone translations, access videos, and experience other perks. It also renews automatically on a monthly basis, should they choose to continue with the service. If they choose to do so, they also have the option to terminate their accounts anytime at their convenience. The members really have an option on what they want to do with their platinum account.
For those who have lesser funds, there are lower price levels too, namely, silver and gold. At $12, men will get an email address of two of the women of their choice. Meanwhile, the gold membership is at $9 with the benefit of having three to ten email addresses of any female member of the site. The flexibility of the fees is convenient for all its users regardless of their financial capacity. In this site, both men and women can benefit in their course of finding the love of their lives.
Wide Selection of Ladies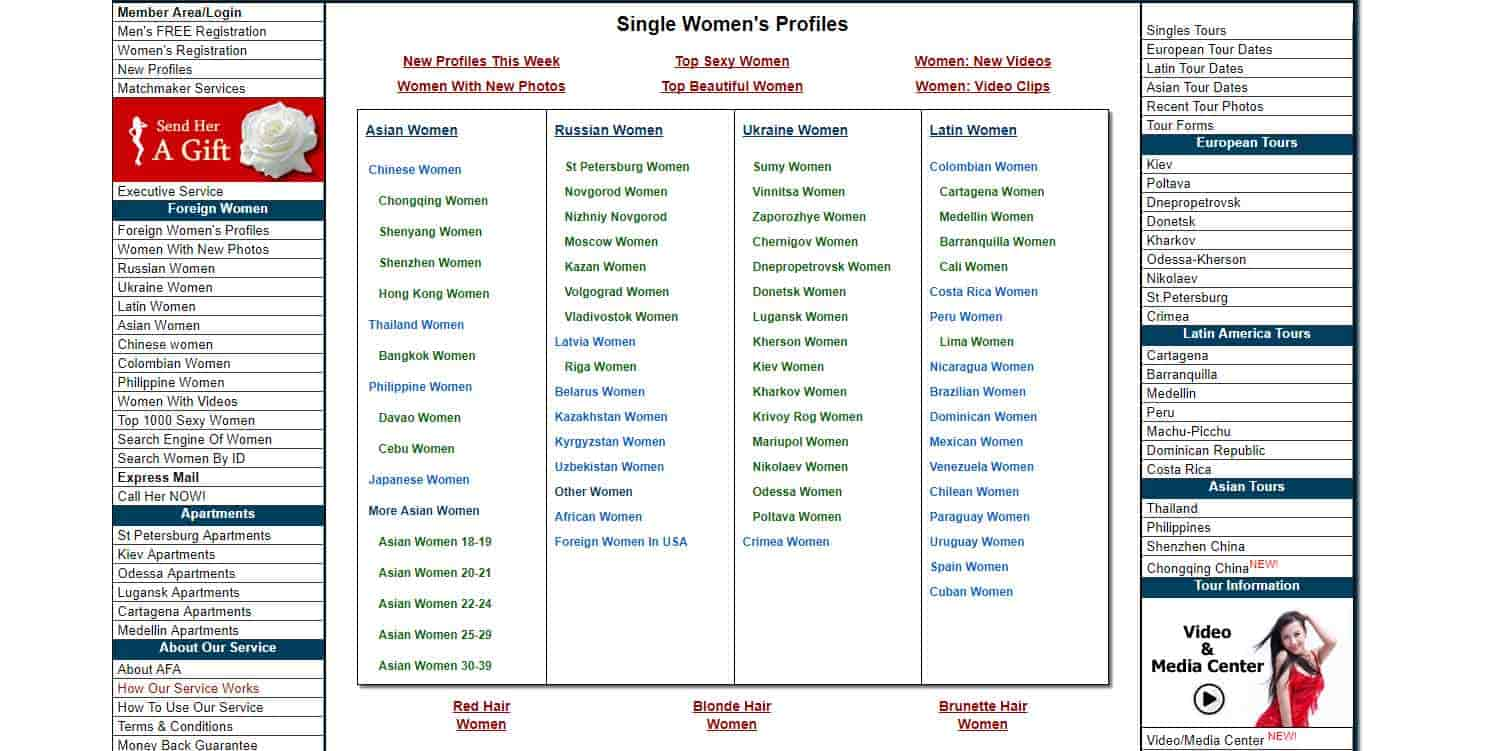 With hundreds of women's profiles from all around the globe, A Foreign Affair guarantees that there is somebody for everybody.
The information on the profiles of each personals may be brief, but the photos that come with it speak volumes about them. There are a couple of candid shots with one or two formal photos. It openly showcases the diverse beauties on the site, which is very convenient for both members and searchers.
When searching, it is also possible to filter out the results that come up. The searchers can select the age range, nationality, interest, religion, etc. This guarantees that members are paired with women whom they are compatible with.
Exciting Services for Finding Love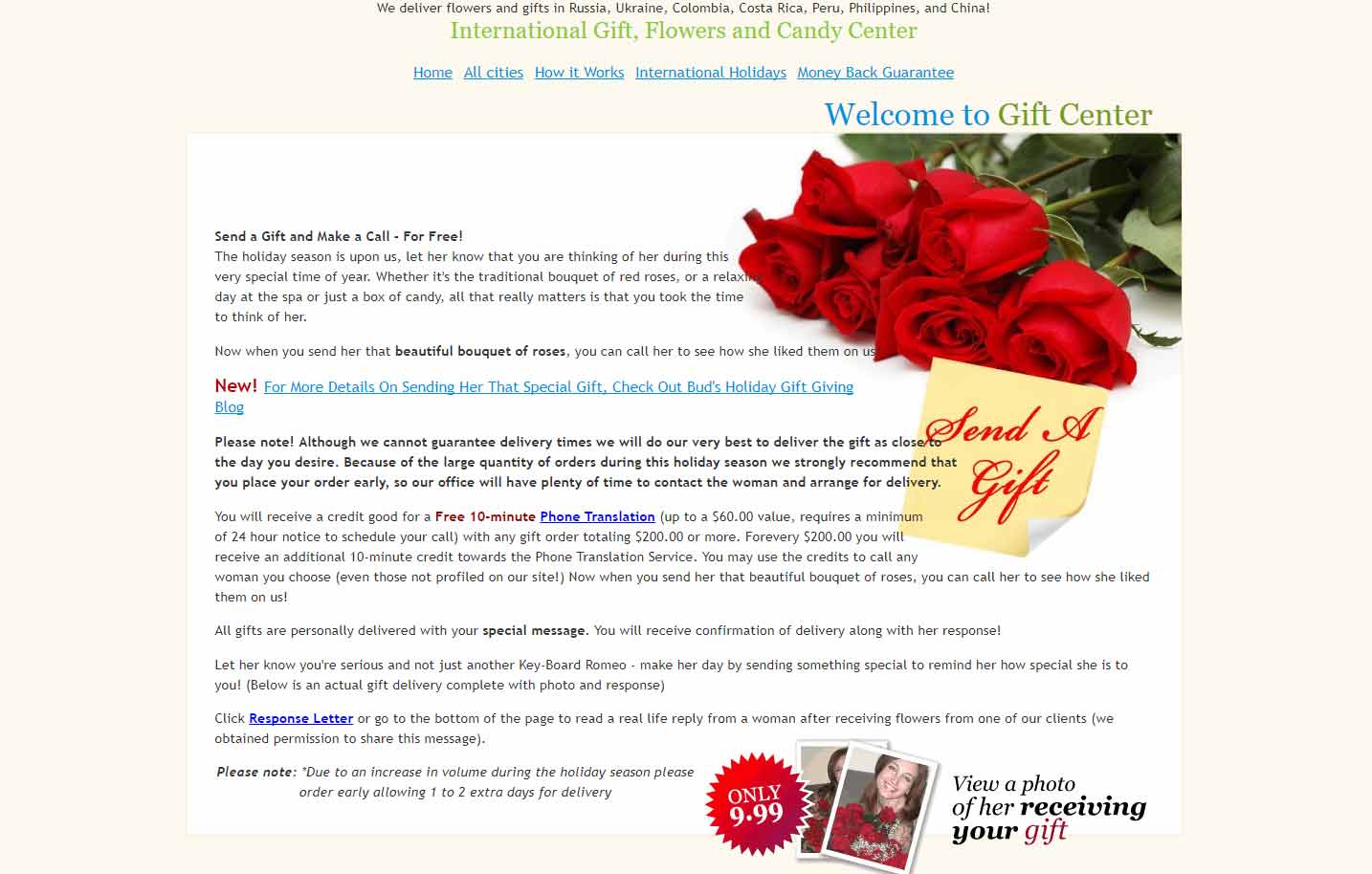 Never ignoring the impact of a physical gift despite the distance, A Foreign Affair helps men send gifts and letters to someone they are wooing.
Exchange Love Letters with Your Potential Partner
With the virtual addresses that men (users) get for their chosen membership, they can send messages to their preferred woman registered in the website. They can keep their communication lines open as such is important when trying to make a deeper connection with someone.
The letters go through AFA's servers and are translated, should the member pay for the translation fee. However, the women still have the last say on whether they choose to receive the mail or not. After all, AFA protects both the women and its members the same way.
Another security measure the site implements is the process of forwarding the background information of the email sender to the recipient in compliance with the federal law. For the women who don't have email addresses, members get postal addresses instead.
However, members will have to pay an additional $9.99 or $7.99 for Platinum members to use the Express Mail Service of AFA. Either way, the users are not robbed of the money that they had paid for. The best part is that all these minor charges are still lower than what is being charged by other dating agencies.
Another thing to note about the letter exchange service offered by AFA is that letters are an important piece of evidence to present during the processing of the fiancé visa.
Experience Singles Vacation Packages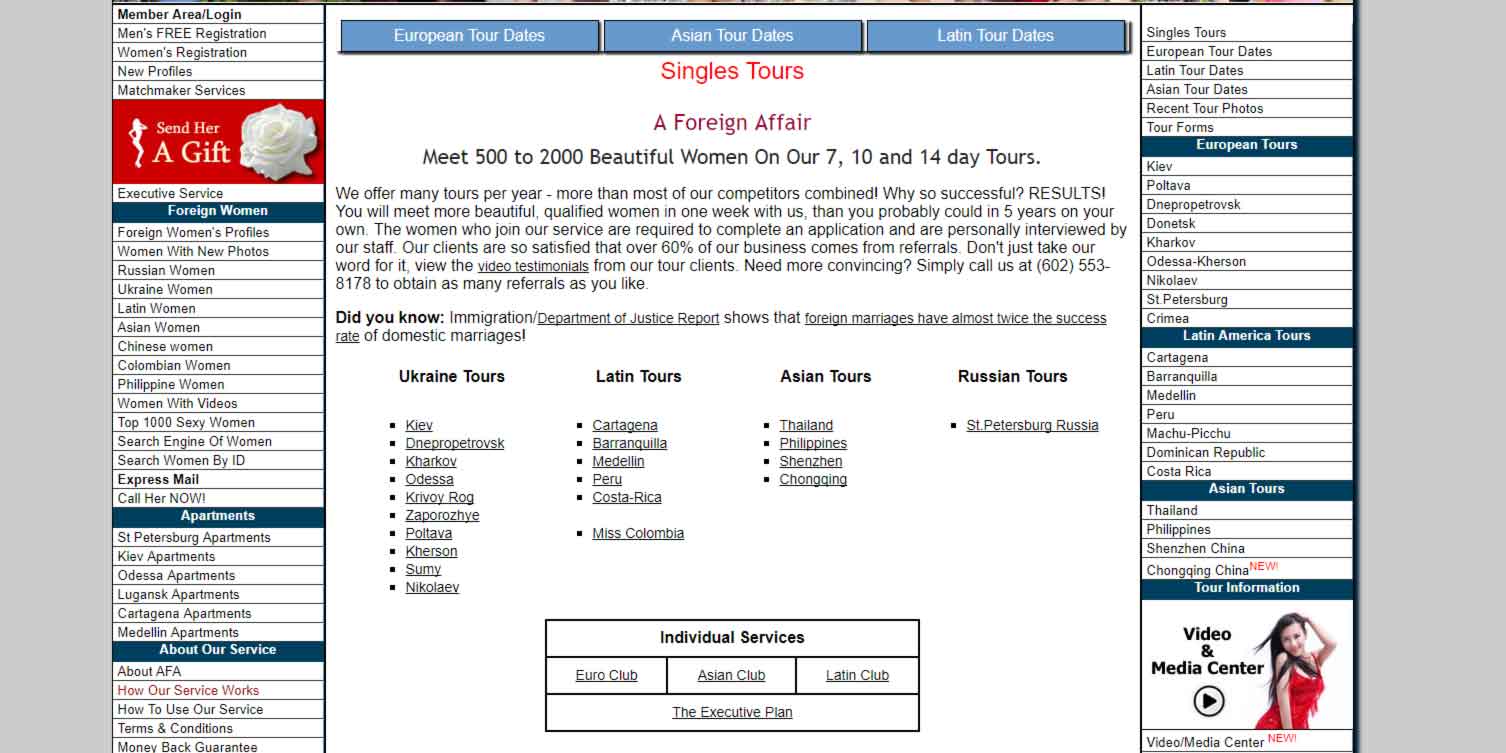 Famous for the international singles vacation, A Foreign Affair has more tours yearly in more locations than any other introduction tour agencies.
Above everything else, AFA's most popular service is its singles vacation. They have regular tour schedules that members can choose to participate in. Not only do they have the opportunity to meet hundreds of good-looking foreign women in other countries, but they also have the chance to visit other countries at an affordable price. It gives them the best of both worlds right on their very doorsteps.
A Foreign Affair has relatively more tours in Europe, Asia, and even in Latin America compared to other introduction tour agencies. The cost of the tour packages includes the membership on loveme.com, fiancé visa kit, the socials, and an optional 4-hour sightseeing tour. However, it is not only limited to these. A pre-tour assistance service is also provided for every member joining. This is to make sure that everyone is well-informed about what is going to happen and what they should be expecting.
AFA also has its standards when choosing where the tour participants will be staying during the duration of their stay in the city. The agency makes sure that quality hotels are chosen with superb service and hospitable staff. Each member is provided with their own room with a full breakfast waiting for them every morning.
After the tour, clients can choose to stay a little longer and explore the city on their own. There are plenty of agency representatives who can assist those who decide to stay for a little longer. They can also ask for free consultation regarding their fiancé visa concerns and the like. AFA also gives a hefty $300 discount for members who decide to join the tour again. This promotion encourages a lot of people to go through the experience over and over again.
Downside of A Foreign Affair
The kind of service the site promotes is very promising. However, the appearance of the LoveMe website could use some improvisation and development. The large number of links on its homepage can be a little overwhelming and could easily confuse readers, thus making it difficult to maneuver the website.
Nevertheless, the information it tries to convey is complete and understandable. The design of a site reflects the quality of service a business provides. This is something that they should work on.
All things considered, A Foreign Affair is an outstanding dating agency that paves the way for those seeking love to find their match in locations outside their home country. Its services are legit and returns the value of its members' expenses. The growth of the company can be expected in the years to come as more lovers match together online and on tours.